Riot Face Shield – Dk5 H.150
Riot Face Shield – Dk5 H.150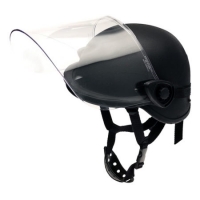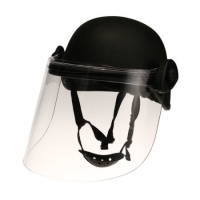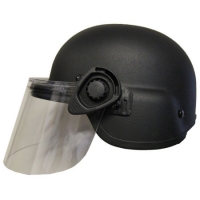 Description
Riot Face Shield – Dk5 H.150
United Shield International offers the DK5 H.150 Riot face shield. This face shield is used to provide riot protection from impact, splash and fragments. This face shield is used in conjunction with an PASGT/PST SC650 style helmet and is available in a retro fit or factory integrated application to the helmet.
The Shield locks into the stowed or deployed positions and can be released with one hand. Pivot and lock assembly can be transferred to the right or left of the shield for individual preference.
This face shield has a length of 8″ to offer maximum protection.
Riot Protection
This Shields Provides protection against fluids, impact, incendiary projectiles and Riot Conditions.
Material
Polycarbonate
Weight
Weight – 1 lbs. 1 oz.
Thickness & Size
Thickness - .150 Length – 8"
Colors
clear
Warranty and Quality Assurance
United Shield International offers a 5 year warranty on the face shield. United Shield International is an ISO 9001 & 14001 certified company.
Reviews
There are yet no reviews for this product.