Z-8N GTX C
Z-8N GTX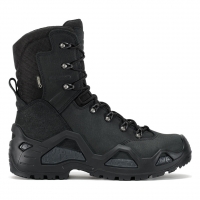 Description
Rugged, multi-function boots designed for demanding missions, while carrying heavy packs over varied and extreme terrain. Lightweight and stable, these boots provide the walking comfort of light hiking boots, with the support and projection of hard duty, backpacking boots.
Upper Material Split Grain Leather & Fabric
Construction Slip Lasted - Injected PU Midsole
Lacing Hardware Closed Metal Loops and Hooks
Insole Climate Control Footbed
Lining Wicking Polyester
Midsole Double Injection DuraPU™
Monowrap Frame® MONOWRAP® Stability Frame
Stabilizer Hard
Sole LOWA Cross Duty
Country of Origin Slovakia
Weight Per Pair (lb) 3.12
Resolable No
Safety Certifications O2 HI CI FO HRO SRA
Reviews
There are yet no reviews for this product.