Fenix ARB-L14U 14500 1600mAh 1.5V Lithium Ion (Li-ion) Button Top Battery with Micro USB Charging Port
Fenix 2600mAh Rechargeable Battery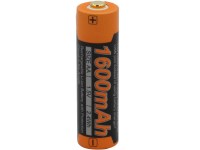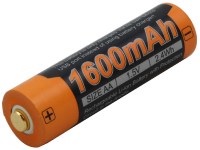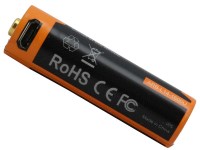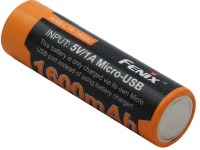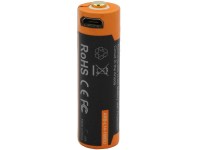 Description
Fenix Micro-USB Rechargeable 14500 1600 mAh Li-Ion Battery

No Need For Bulky Chargers!

Part of Fenix's innovative new line of rechargeable batteries, the ARB-L14-1600U 14500 Battery is a potent combo of power and convenience. The powerful Lithium Ion battery delivers 1.5 Volts of power and can hold a considerable charge of 1600 mAh, more than twice the capacity of a typical 14500! Even more beneficial is the cell's unique micro-USB charging port, allowing the battery to be recharged using one of the most common power cords used today rather than a bulky, expensive battery charger. The charging progress of the battery can even be monitored thanks to the multicolored LED power indicator located on the top of the battery. Potent in its power and user-friendly in its design, the Fenix ARB-L14-1600U is the perfect cell for nay rechargeable battery user.

NOTE: Do NOT attempt to recharge this battery in a conventional battery charger. Attempting to use any other charging method other than the micro-USB charging will result in damage to both the battery and the charger and possibly result in personal injury or property damage.
Reviews
There are yet no reviews for this product.