IFAK POUCH
SHE-830 IFAK POUCH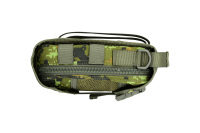 Description
The IFAK POUCH, When the IFAK Pouch is going to be used, every second is of inconceivable value. For this reason, the pouch can be ripped off from the base within fractions of a second und the urgently demanded medical equipment is much faster and easier accessible. A tourniquet and other immediately required supplies can be mounted on the outside. Bandage, scissor, scalpel, appressorium, homeostatic treatment, pain reliever and much more equipment can be carried inside well assorted for fast access.
Product Materials
1000 Denier water and abrasion resistant lightweight ballistic 100% nylon material.
High strength YKK zippers and zipper tracks.
YKK nylon buckles for low sound closures.
High tensile strength nylon webbing.
High tensile strength composite nylon thread (stronger than ordinary industry standard nylon thread).
High grade closed cell foam padding material for superior shock protection
Reviews
There are yet no reviews for this product.